Course details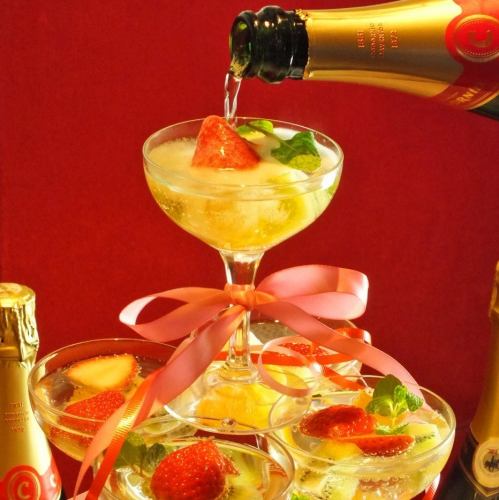 New Year's party · Party ♪ 【3 hour charter PARTY · Wedding second party plan】 ◆ 10 items 5000 yen ~
By using a coupon5000 Yen
It changes according to the number of people and the date.
10items

40

-

64persons

All-you-can-drink available

Toasting sparkling wine will be attached at + 500 yen.
Sunday, 30 people on weekdays · Fri, Sat, Holiday day 50 people 5000 yen ~ Available for private use.For details, please contact the store.
Course menu
~~~ One dish ~~~
[Cold Tapas] Steamed Chicken Garcia Style
[Cold tapas] Homemade pickles
【Salad】 Caesar salad with Grana cheese
【Warming tapas】 Grilled sausage
【Warm Tapas】 Onion Ring
【Assorted Raw Ham】 Proshoot / Iberico Chorizo
【Pizza】 Four kinds of cheese quattro formaggio
【Pasta】 Chef's choice of pasta
【Paella】 Valencia style paella etc.
【Dessert】 OPERA chocolate cake
~ ~ ~ ~ Private privilege ~~~~
● Create welcome board
We will prepare the names of the two of you.Please consult us at the time of reservation.
● Bouquet · Mini Bouquet ※ Brought in for free
If you can consult by the day before, you can also prepare here.(Outsourcing)
Sorry to trouble you, but please tell us your budget budget, atmosphere, etc. ♪
● Arrangement of seats Free live bands and dance games such as games can be moved to your favorite seat placement if you have a request ☆ ~
● BGM bring-in, DJ booth use ※ i-pod correspondence possible
If you bring in your favorite CD or i-pod, you can also pass it.
● Projector perfect
You can screen your favorite DVD with the projector in the store.You can project from your laptop as long as you bring your favorite movies such as a wedding reception banquet and memories DVD etc. ♪
● Bingo Game
You can use it if you bring your card etc.
● Fruit Champagne Tower
5000 yen course Fruit champagne tower (4 steps) will be given with charter over 50 people!
● Wireless microphone × 2 lending
● Freedom of seat arrangement
Please use the inside of a spacious and stylish store as you like ♪
etc ... Please do not hesitate to contact us for any questions or details!
All-you-can-drink menu
· For + 500 yen ...
· A toast sparkling wine (1 cup per person) will be attached to the contents of the following 1500 yen drink all you can.
· Wine · Sangria
· Kunprid · Templaranillo (red) / Kumpried Eylen (white), [Sangria] Sangria (red wine + fruit) / Veldura (white wine + vegetables)
· Fruit wine · Plum wine
· Lemon and ginger plum wine / Rosehip and raspberry plum wine / 5 kinds of citrus plum wine
· High Bowl · Beer
· 【High Ball】 Lucky High Ball / Ginger High Ball / Spanish High Bowl, 【Beer】 Kirin's No. 1 Squeezed Draft Beer
·Cocktail
· Bacardi Mojito / Valencia Mojito / Pinha Colada Amarillo / Leb Heat / Tinto de Bellano / Calimocho / Giralda / Wine Cooler / Kitty / Keel
·Cocktail
· Melican lemonade / mimosa / gin (tonic · bag) / cassis (soda · orange juice · grapefruit juice · milk) / chandigafu / red eye
· Coffee · Tea
· Coffee / Cafe au lait / Cappuccino / Espresso / Cortado / Straight tea / Milk tea / Lemon tea
·Soft drink
· Ginger ale / Pineapple juice / Grapefruit juice / Orange juice / Tomato juice / Oolong tea / Black oolong tea / Chardonnay white grape juice
Reservation deadline

7 Days before 17 o'clock of the desired store date
Available days for reservation

Monday - Sunday - Public holidays - Holidays
Coupons that can be used with this course
2019/01/08 update