Course details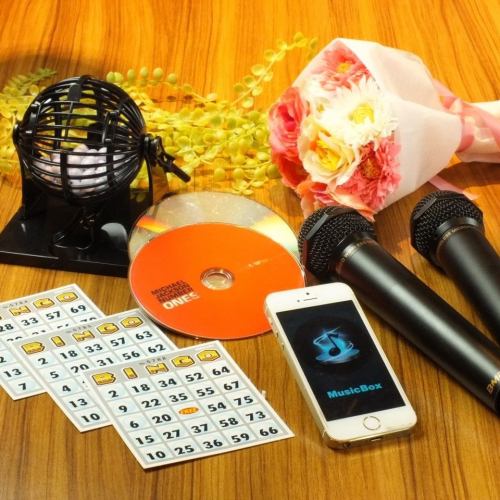 【Private Choice PARTY 17 Great Benefit】
Suitable for wedding ceremonies and various parties! 3 minutes walk from Sendai station front ◎ Preview OK ♪ Please feel free to contact the store.
Course menu
~~~ Charter 17 Great Benefit ~~~~
● Customers of preliminary inspection, 1 drink service
● 3-hour floor rental (Extension is 500 yen per 30 minutes / 1 person pre-application)
● Welcome Board Preparation We will prepare the names and pictures of the two of you.Please consult us at the time of reservation.
● Bouquet · Mini Bouquet ※ Brought in for free
If you can consult by the day before, you can also prepare here.(Outsourcing)
Sorry to trouble you, but please tell us your budget budget, atmosphere, etc. ♪
● Arrangement of seats Free live bands and dance games such as games can be moved to your favorite seat placement if you have a request ☆ ~
● BGM bring-in, DJ booth use ※ i-pod correspondence possible
If you bring in your favorite CD or i-pod, you can also pass it.
● Projector perfect
You can screen your favorite DVD with the projector in the store.You can project from your laptop as long as you bring your favorite movies such as a wedding reception banquet and memories DVD etc. ♪
● You can use it if you bring your bingo game card etc.
● welcome We will have a drink service before the toast on the day of the drink.
● Cloak Completed We will keep you in the vicinity of the front desk.(It is possible to pre-order such as prizes.)
● Wireless microphone × 2 lending
● Seated in style and buffet style Anyone can handle it.
● Arrangement of seating ♪ Please use as wide as you like in a fashionable store ♪
● Champagne Tower Fruit Champagne Tower available (extra charge)
● The 3rd Floor Introduction Site Limited to the affiliated stores
● Cake message plate, fireworks director free 5000 yen or more plan limited
● Memorial photograph Collection memorial photos are possible using the EDEN terrace seat.
etc ... Please do not hesitate to contact us for any questions or details!
Available days for reservation

Monday - Sunday - Public holidays - Holidays
Coupons that can be used with this course
2019/01/08 update